We need a system to perform 4 tasks – ideally with no effort required
We need to be able to elevate a dinghy so as to free the stern if docking stern-on, for general access, or bathing, or man overboard.  So the crew can step down below the dinghy.                                                                                                                                                              
Then we should carry the dinghy at an adjustable height (to suit conditions) during normal sailing.                                                                             
In launch mode the dinghy should not be dropped vertically downwards, but at an angle to an adjustable distance away to allow use of a drop down platform, or clear a raked stern. And ditto during hoisting.                                                                                                                      
(If you could do all this using a small pendant control hanging on a neck cord, even able to be operated as you motored up to an anchored yacht,  this would be perfect!)                                                                                                                                                                    
And IMPORTANTLY - with or without electrical power working, to permit an emergency launch in say 20 seconds for rescue duties or evacuation.  ##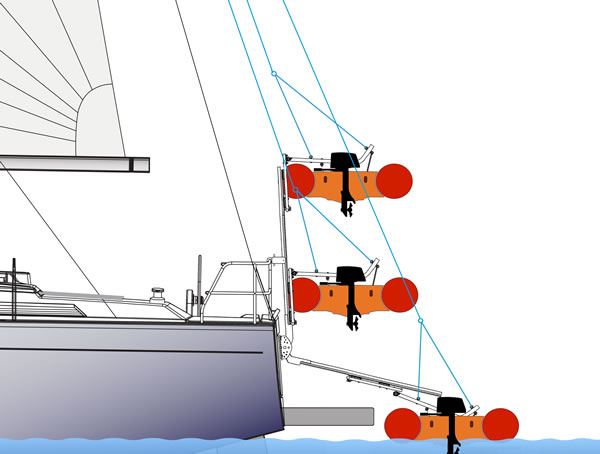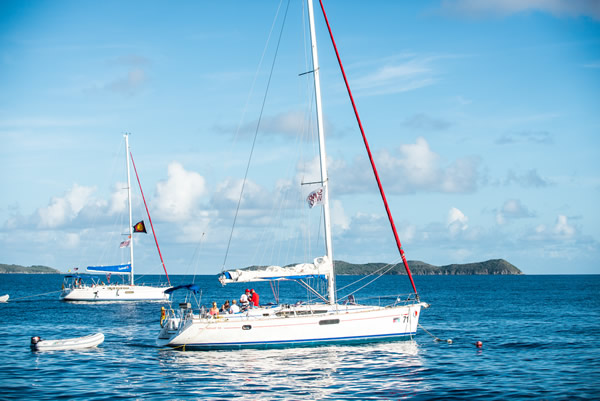 Is there an alternative to towing my dinghy?
We want to be capable of handling a full sized and equipped  RIB with an outboard already mounted,  without having to tow it.  This can easily total a 130 kg (280 Lb) load. 
Towing adds drag, and as conditions deteriorate above Force 3-4, the risk of losing it entirely, or inverting and flooding the engine,  means that it has to come aboard however difficult that becomes.
So now there is an alternative to towing or deflating and stowing;  a new invention called "Dinghy Derrick" (DD) and in technical terms it is a Compound Double Derrick Crane, made in mirror polished Grade 316 stainless steel, and fully electrically automatic in operation. 
DD can be removed in about 15 minutes for storage if not needed for a period.
Dinghy Derrick provides the solution
See the videos below- and click on the lower right box to expand to a full screen view.  Use ESC to return to embedded view.
An introduction to Dinghy Derrick
Dinghy Derrick -  Technical issues