Standard Components
100-200 metres, determined by survey, of 6mm UHMWPE or Dyneema halyard rope rope for the fitter to cut to suit for all halyards and strops.
2 ARK aluminium opening cheek pulley blocks (+ 1 spare) for use on the lower rigging onto the Davit Arms (1 each side).
1 set of shackles and eyebolts and eye nuts (all in 316 stainless steel) to make all required connections to the dinghy lifting points, Davit Arms, Transverse Link, and backstay clamps.
2 backstay clamps (sized as per the rope diameter as determined by survey)
Optional components
Wrap around mast strap/clamp
Mast side rivet-on U bolt plate (rivets not supplied)
Dinghy transom extension lift point brackets
Extra backstay clamps
Extra shackles, eyebolts, eyenuts (M8 or M10 thread in 316 S/S)
Other marine pulley blocks for fitting between the winch and the Dinghy Derrick pulley 'b' subject the rope layout chosen by the fitter.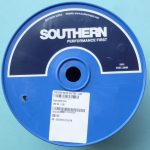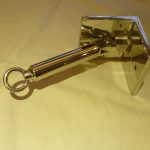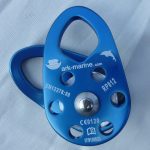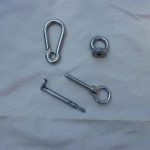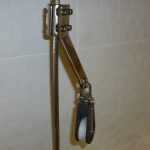 A guide to rigging
Connections:    Each Davit Arm (the 2 short upswept arms from which the dinghy is suspended) is connected to one halyard, working on a 2:1 reduction from the windlass, via  3 connection points
on the Davit Arm boss end                        on the Davit Arm upswept end                  on the Transverse Link end
which collectively tie to the eye of the upper ARK aluminium pulley block.  If the dinghy/engine load is above 95kgs, a better operation is achieved by using a 3:1 reduction, tying off the spare end through the eye of the lower rigging pulley.
Halyard routing:    For a 2:1, the line around the upper ARK pulley is tied off at one fixed point high above, then down around the pulley and back up to an upper pulley block on the backstay or mast, and then down to the windlass (or via clutch and extra pulleys leading to the windlass).   This pair of ropes runs fully aft of the backstay(s) and hence do not interfere with the sails, topping lift or other lines.  The 2 halyards are joined on the downward run to the windlass.
The halyards do not pull the Davit Arms together, because the upper ARK pulley is anchored directly above the Arm by the connection to the outer end of the Transverse Link.    Again full instructions are given with the kit.
The halyard tie-off point and the pulley block connection maybe any combination of:
a shackle onto an ARK backstay clamp
a becket on the upper block
any mast head fitting able to take the load
the masthead plate may have unused holes as in the photo (or drill more)
the mast itself has a spare sheave
rivet on a side U-bolt plate
add a wrap-around mast strap
Sail rig type:      For yachts which have a mast head rig (ie. not a fractional rig, and the head of the mainsail is tight onto the top of the mast) any extra mast fitments should be added immediately below the top plate/face so there is minimal obstruction to the freedom of the sail.
See the Gallery for a picture of the ARK backstay clamp which is available in different sizes to suit wire ropes of 5-12.7mm.